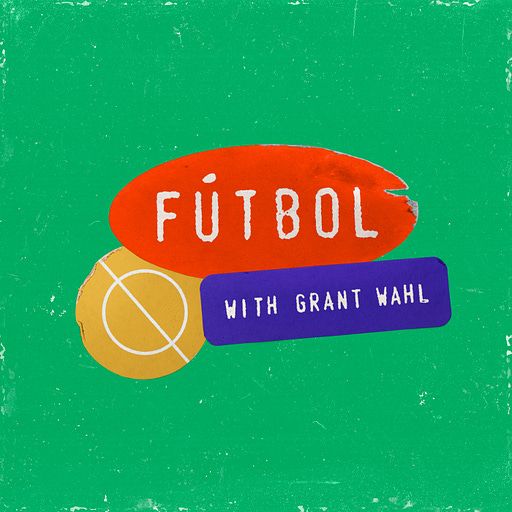 Jan 20, 2022 • 4M
The Interview: David Blitzer
Mega-Sports Investor Explains Why He Wanted to Buy Real Salt Lake, Why He's "Highly Supportive" of His Augsburg Paying $20 Million for Ricardo Pepi, His Lessons as a Crystal Palace Owner and Much More
Grant Wahl, one of the world's leading soccer journalists, shares his thoughts on the sport and interviews the biggest names and the most fascinating figures in the game.
Starting today, we're going to make things more simple. Instead of sending subscribers two emails for every one-on-one interview I do (an audio clip and a written Q&A), I'm going to send you just one email that includes both my favorite short audio clip from the interview and the written Q&A (the entirety of which is exclusive to paid subscribers).
As always, you can still get the entire free audio versions of my podcast on Apple Podcasts, Spotify or wherever you like to go for your pods.
---
Grant Wahl:
Our guest now is David Blitzer. He's a senior executive at the Blackstone Group and has an ownership stake in several sports teams, including the Philadelphia 76ers, the New Jersey Devils, Crystal Palace, FC Augsburg, and as of last week, MLS's Real Salt Lake. David, congratulations on RSL, and thanks for coming on the show.
David Blitzer:
Thanks a lot, Grant. It's a pleasure to be here. I'm certainly very excited with the latest investment in Real Salt Lake. It's great.
Grant Wahl:
It's a really interesting story. Just to start, how far back does your interest in MLS go, and how long have you known the commissioner, Don Garber?
David Blitzer:
Well, wow. So my interest in the sport, we can come back to the investment in the sport, my interest in the sport goes back to whatever my first memories are. So I played soccer growing up, I came from a pretty soccer-heavy area. Back in the '80s, into the '90s, New Jersey still is, but was a pretty massive hotbed of soccer talent. Unfortunately, I wasn't good enough to compete with some of those players as they continued their journeys past high school. 
So I always loved the sport. Always played the sport. Always followed the sport, but really more international from that perspective. I mean, that said, I had season tickets back when the Cosmos were playing at the Meadowlands, '76, '77, '78, et cetera. So I was constantly going to those kinds of games. Fast forward a little bit, I lived in London from late 2001 til late 2011.
So while I had an interest, I certainly was following the big teams, and I was certainly following the U.S. national team, et cetera. I was walking distance from Stamford Bridge where I lived.
And so to be able to go and watch Premiership soccer on a weekly basis, literally, it was pretty powerful. And then I'd watch other countries as well. I'd go over and I'd see games in Spain or in Italy and frankly even some other countries, because it would just be a fun thing to do, go to Copenhagen for the weekend and go watch FC Copenhagen. And then I've been to all the Euros, but then having the World Cup in Germany in 2006, I can't even tell you how many games I probably went to in the '06 World Cup. Maybe like 25.
---
Fútbol with Grant Wahl is a reader-supported soccer newsletter. You can sign up (free or paid) to get my posts in your inbox. The best way to support my work is by taking out a paid subscription.
---
So the interest just kept building I guess in that sense. And then when I moved back in 2011 to the U.S. I had just made my first investment in sports, and that was in the NBA. But it was logical, or I was already thinking like, "Hey, what about MLS? What about soccer in the U.S.?" And one of my earlier meetings was having somebody set me up with Don Garber. And so I met Don for the first time in 2012 and continued to dialogue with Don for nine-plus years and had looked at different situations along that route. As you probably know better than I do, investing in an MLS team back in 2012 and 2013 versus 2021, '22 is a very, very different proposition. Right?
Don and his management team, and a lot of the ownership groups, they've done a phenomenal job in growing the league. There's no question. So I sort of followed that journey, had some fits and starts in terms of looking at some specific things, but really was just waiting for the right opportunity, and the right opportunity presented itself relatively recently with Real Salt Lake. And so while I continued to, as you mentioned, invest in some other European clubs, the interest was there in the MLS, it was just finding the right situation.
"Did I talk to Klaus [Hofmann, the Augsburg president] about the [Pepi] transfer? Sure. It was the biggest transfer fee ever [for Augsburg], right? I'm going to talk with him about it, but I wouldn't want to put myself out there as having been like a game-changer. Klaus had a really good idea and his football personnel, and I was supportive, highly supportive, of the move." — David Blitzer, Augsburg investor
Grant Wahl:
So why Salt Lake? Just because it was available? Or is there any other reason?
David Blitzer:
Well, there's a lot of reasons. I guess, we'll hit on them. To start with you can't buy something that's not for sale, right? So you and I could say like, "Hey, we want to go invest in or buy, pick it." It doesn't matter, right? And if it's not for sale, okay. Like we could talk about it. So look, I'd say first off I grew up going to Utah. I love to ski and it's not that unique, but I was somebody who'd go out and ski in Utah pretty much every year, even more than once a year in many cases. And it's an amazing state, and Salt Lake and its surrounding areas, it's an amazing community. I think that's clear to many. It should be clear to everyone, but some people haven't visited yet.
So it was for sale as you well know, the MLS was looking for a new ownership group for the team. So it starts in that, there's at least something to talk about, something for Don and I to engage on again. But for me, again, having engaged on a variety of other situations and dynamics, what really came together here for me was my partner. And so doing this with Ryan Smith and SEG just felt like it's one of those things where things come together, I call it kind of serendipity in a sense. And so having Ryan as my partner and I as Ryan's partner made a lot of sense for both of us. But the market's a great market. I think I said this at the press conference, you probably heard it. A lot of people call Utah and Salt Lake City like a hidden jewel.
I don't think it's really hidden anymore. It's a jewel of a market. And I'm also a big believer and I'm sure we'll hit on this a little bit more later, but I'm a huge believer in the academy. And I still think the best way, it doesn't matter what country you're in, the best thing you can do is identify talent at a young age and develop that talent over a number of years. And the Real Salt Lake academy system is amazing. 
I mean, I don't have the exact stats, but we must be in the top two or three of number of our players in our first team that are homegrown and come through our academy system. And there's many, many, many more that we're super-excited about on the way.
So you have the infrastructure and the academy system. You have this market that is producing really, really interesting talent, but it's just a great market and growing. So again, you'll see this area and the communities five years from now versus today will be even obviously a lot bigger. The growth is incredible, and the innovation, and again, there's no one who's more of an innovator than Ryan. He kind of typifies the amazing things that are going on in technology and innovation in Utah. So it all just came together in that sense, and I'm really happy to be able to get it done.
Grant Wahl:
How would you describe your style as a sports team owner? How involved are you?
David Blitzer:
Look, there's lots of different types, and we all try to like pigeonhole dynamics. Look, I mean, every situation's different, but I would say big-picture. I'm not a meddler. You know what I mean? Like I'm here to help. So if our director of football or CEO or our head of whatever, the academy system or this or that, if they want to talk about something I'm here to help. But my mantra, both in my investing business, as well as in the sports business, has revolved around finding great situations, great companies, great teams, et cetera, but hiring excellent people and empowering them to do their jobs. So I would say in that sense, I'm really happy to be lucky and have a lot of great management teams that do their jobs.
And I'm there to create governance structures, which I do think are important, and it's really "Where can we help?" And obviously you can help in a lot of different ways, but I'm not trying to call down and say, "You need to go get this player..." That's not what I should be doing. I'm not the expert in that. I'll have an opinion if somebody calls me, or if we're sitting down to talk about, "Hey, preseason, let's look at how the team's coming together. What do we need? Do we need another kind of left back or do we need a right winger. Or in basketball, do we need a point guard, or in hockey, do we need a goalie or...?" Obviously, I'll be in some of those key conversations, but again, we should let the professionals do their jobs really well.
Grant Wahl:
Do you think MLS as a league should spend more money on players, and do you see Real Salt Lake spending more on players under the new ownership?
David Blitzer:
Look, I don't know yet, is the answer to the first question. So I'm still learning about all the nuances, not just of the MLS, but how the MLS fits into the global football soccer ecosystem. And that's changed even again, as I've watched the MLS in particular during this kind of nine-year period of being back in America. I mean, MLS in 2022 is very different than the MLS in 2012. And again, I think that's testament to the management team and Don and frankly the teams themselves and the ownership groups. And I'm early on my journey. And so I'm not going to opine today on what I think they should do with some of the rules or spending more money on this or more, I don't know yet is really the answer. As it relates to Real Salt Lake again, let's start with the best thing one can do is identify and develop talent themselves.
That's a competitive advantage. And so I love that Real has that as sort of a mantra and has from really day one, as I see it. But that's not everything. You and I both know that a team needs to be really balanced, and culture's incredibly important. And frankly, it's interesting because as you know, we're really excited about the fact that Pablo [Mastroeni, the coach] extended his contract in Real Salt Lake, and having spent a nice amount of time with Pablo, I'm very thankful for that and happy about that. But also he and I talk about culture a lot. Like a bunch of our conversations have really just been around culture of the team, culture of the organization, what he brings to bear, what the organization needs to do to support that, et cetera.
And so it's kind of what fits, right? It's not just like, "Let's line up the 11 best players in the world and put them on a team" kind of thing. So do I think investing in the team is relevant? Of course, I do. But I don't know exactly where those best investments will be made yet, but certainly Ryan and I would take a view that as we learn, our goal is to have an incredibly high-quality product on the pitch and more broadly just across the organization. But I think it's a great organization, and hopefully we can help and add value to that as it goes. But I don't have specific great answers for you yet. It's just too early.
Grant Wahl:
You said publicly that you would like to bring the NWSL's Utah Royals as a team under your ownership in Salt Lake. How soon could that be?
David Blitzer:
Well, I think there's a difference between knowing that it's going to happen, because there's contractual things that just need to occur, and then there's when would it start? Because you need real lead times to get the team back, et cetera. So look, big picture. I think Ryan and I have said, we feel like it's when, not if. It is clearly our intention to bring an NWSL team back to this marketplace. We're excited about it. As part of the overall transaction, that was something that had us very excited, and we intend to do that, but we certainly have some Ts to cross and some things to get through. So I don't know, my gut is in terms of playing, you're looking at probably '24. I guess there could be some shot that it's '23, but probably '24. Again, I just don't know.
Grant Wahl:
You're part of the Crystal Palace ownership group. How would you describe what that experience has been like? You spent a lot of time living over there.
David Blitzer:
A lot of fun and a lot of stress. So I assume your fans and your listeners understand the difference between the MLS and basically every other soccer league in the world. And so this little thing called relegation is just not such a little thing, right? It's kind of a real thing. And look, I was lucky, and I met [Crystal Palace chair] Steve Parish, and I don't know if you know the story, but folks should watch When Eagles Dare. When Eagles Dare is an amazing five-part series that kind of starts with the history of the team as it had gone into administration, and four local fans bought the team out of administration, got their freehold on their stadium back from the banks. And that's how When Eagles Dare sort of starts and it takes it through, because I think you probably also know when a team goes into administration, the leagues dock them points.
So here was a team that when they bought this team, these fans from growing up when they were four or five years old, got together to buy this team out of administration back in, I might have it wrong, but I think it was 2010. They came very close to moving down to League One because of the penalty on the points deduction. And the good news is on the last game of the season, they salvaged staying up in the Championship. Literally, last game of the season. 
And then from there, it shows the team as it grew to be promoted from the Championship to the Premiership, which is when I was introduced to Steve Parish, who was looking for some partners who could work with him and invest in the team as it had really just been up in the Premiership. I think I probably met Steve the first year it was up in the Premiership, or maybe at the end of the first year it had been up in the Premiership. 
And we had been debating. We had been looking at investing in a team in England, and we had been debating, "Do you buy a Championship team and put a bunch of capital into the Championship team and try to get it up?" We ultimately concluded particularly for this team, meaning Crystal Palace, that we would rather invest in Crystal Palace being in the Premiership and invest capital to keep it up, rather than just try to get promoted. But look, it's a stressful dynamic. And we certainly have had seasons where we're very, very worried about relegation deep into the season, and the good news is Palace has stayed up for, I guess for me, seven seasons, it might be one more before I got involved.
So definitely some stress, but a lot of fun. I mean, football's fun, London's fun. Palace fans, I don't know if you've ever been to Selhurst Park, but it's incredible. The atmosphere is absolutely electric. So, yeah, it's been great. And as you probably know, a bit of a new chapter in Palace really this summer with Roy [Hodgson] retiring and Patrick Vieira coming in as the new manager, who's just absolutely fantastic. Although it's a little strange sometimes. 
I mean, you idolize somebody as a player, and then he's your manager, and it's like, I just think, I think about him as a player and how amazing he is, but he's actually equally an amazing person. And as a manager, I couldn't be happier with Patrick. But as you know, we really went for bringing in younger talent to again develop over the years. And we've gone from being one of the, if not the oldest, one of the oldest teams in the Premiership just age-wise on the pitch to, if not the youngest, certainly one of the youngest, and that's a fun journey to watch that's still early.
Grant Wahl:
I enjoy getting to know Patrick Vieira when he was the coach at New York City. Just a really fascinating guy. I do need to ask about Augsburg, because you're also part of the ownership group of Augsburg in Germany. That club just broke its transfer spending record to acquire the U.S. forward Ricardo Pepi. I know there's been some speculation that you played a role in that transfer. Is that accurate? Is there a story there?
David Blitzer:
It depends on your definition of role. So I partnered with a gentleman named Klaus Hofmann, who owns Augsburg, and he was looking for a partner, and we were introduced. I actually had known Klaus going back a lot of years from our business careers. So I'd actually gotten to know Klaus back when I was living in London, but we hadn't seen each other in a long time and sort of got reconnected, I guess, is the right word. And he was looking for a partner that again, would come, and he runs the team. It's similar to Palace, Steve Parish runs the team.
He's my partner on the investment side, but he runs it. Same, I'm a partner with Klaus, like Klaus runs the team. And so did I talk to Klaus about the transfer? Sure. It was the biggest transfer fee ever [for Augsburg], right? I'm going to talk with him about it, but I wouldn't want to put myself out there as having been like a game-changer. Klaus had a really good idea and his football personnel, and I was supportive, highly supportive, of the move.
Grant Wahl:
I asked Don Garber this question on my podcast when he came on recently. We're not even a year removed from the European Super League and its quick flameout. Do you think the current economic model at the top of European soccer is sustainable? And do you think MLS with its single-entity model and it's lack of relegation is in any position to close the gap with the top European leagues from a financial perspective as a result of that?
David Blitzer:
There's a lot in there, Grant, and again, some I have a view on, and some, again, I'm a little early to figure out. But look, I'd say the existing structure of, let's talk Europe, for the sake of argument, of the European leagues, I think works great. I don't really see any reason to change the structure of any league in Europe. That doesn't mean there aren't little things on the margin, you know what I'm saying?
Like maybe making some of the media money spread out a little bit more, what have you. But the structure of those leagues and how they are operating and how they work as entities in their own country but obviously come together across European football, Europa, Champions League and others and then the national teams, it works. I don't know why you want to change something that completely works, personally. So yeah, I think it works, and I don't see big changes from my perspective as it relates to the structure of European leagues, et cetera. 
MLS, I mean, again, I think Don and the team, they've done a great job. I go back and look at where they were relative to the world, let's call it, in 2012, and where we are relative to the world in 2022. And it's a lot closer.
There's no question. We could debate how much closer. But clearly that gap has been closed. And I like to bet on America. Betting on the U.S. seems like a pretty good idea, right? And so do I think the talent is going to continue to grow and grow and grow in the U.S.? Absolutely. I'm not sitting here going to make predictions of, "I think the MLS will overtake the Premiership in 2030",  I don't know. But do I think it's going to continue to get better? And do I think that gap is going to continue to constrict? Yeah, I do. And again, you can just see, not even in 10 years, think about the last three, four years and some of the talents that are going in both directions, by the way.
Pepi is a great example, and there's plenty more, just from the last week or so. But in terms of the value that is ascribed to him, regardless of what you think. He's an immensely talented young player, and I'm going to be as just a fan so excited. I mean, watching these qualifying U.S. national team games and watching him come up and watching what he did at his age and the pressure, he's an extraordinary young man. So I'll be just as a fan interested in watching his journey and many others, but it's a fun one to talk about over the last couple of weeks.
Grant Wahl:
David Blitzer is a senior executive at the Blackstone Group and part of the ownership groups of several sports teams, including most recently Real Salt Lake. David, thanks for coming on the show.
David Blitzer:
Thanks so much, Grant. It was a pleasure.
---
What are your thoughts on the Blitzer interview? You can share them in the comments below.