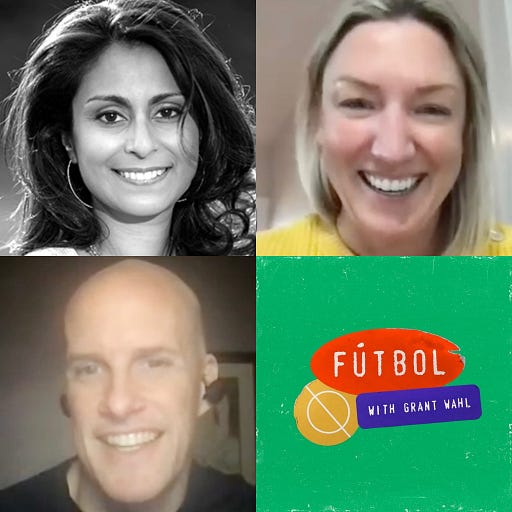 Dec 20, 2021 • 6M
Podcast Headliner: Dr. Celine Gounder and USL Super League President Amanda Vandervort
5 Good Minutes on Omicron and the US 2nd-Division Women's Pro League
Grant Wahl, one of the world's leading soccer journalists, shares his thoughts on the sport and interviews the biggest names and the most fascinating figures in the game.
Hi everyone! I hope you're staying safe out there as the holidays approach. Today's Podcast Headliner is 5 Good Minutes from my wife, Dr. Celine Gounder, an infectious-disease specialist, on Omicron, and a quick explainer on the USL Super League (a new second-division women's pro league debuting in 2023) from league president Amanda Vandervort.
Just as a reminder, the entirety of my audio podcast episodes are no longer hosted on my Substack newsletter. If you already consume my podcast on Apple Podcasts, Spotify or other listening platforms, nothing has changed at all. But if you have been listening to my audio podcast solely through this newsletter, you'll need to sign up for the full pod at one of the links above. It's still free to listen to.
---
Fútbol with Grant Wahl is a reader-supported soccer newsletter. You can sign up (free or paid) to get my posts in your inbox. The best way to support my work is by taking out a paid subscription. Gift subscriptions are also available.
---
To listen to the rest of my interviews with Gounder and Vandervort, as well as my conversation with Chris Wittyngham about the USMNT and the wild Tottenham-Liverpool game, click on the links above.
For paid subscribers, I will continue to publish the written Q&A from select podcast interviews. Thanks for subscribing and consider giving a gift subscription with a World Cup year ahead in 2022!