USMNT World Cup Daily, Day 14
Explaining all the tensions surrounding the USA-Iran World Cup showdown.
DOHA, Qatar — It's fair to say there's a lot happening around Tuesday's USA-Iran showdown at the World Cup. You've got two teams fighting for one spot in the knockout rounds. You've got decades of political history (Iran's taking of 52 U.S. hostages for 444 days in 1979-81) and soccer history (Iran eliminating the U.S. from World Cup '98 with a 2-1 victory).
And as of Sunday you've got a present-day conflict between the two countries over women's rights in Iran that has the Iranian federation protesting to FIFA about U.S. Soccer, as well as a public spat involving former U.S. coach Jurgen Klinsmann and current Iran coach Carlos Queiroz, who once wrote a blueprint for U.S. Soccer on how to win the World Cup by 2010.
Got it? I know, it's complicated.
Let's break it down.
---
GrantWahl.com is reader-supported. Free and paid subscriptions are available. This is how I make a living, and quality journalism and traveling to Qatar require resources. The best way to support me and my work is by taking out a paid subscription now.
---
ON THE FIELD
The stakes couldn't be much higher in pure soccer terms on Tuesday. The U.S. has to beat Iran to advance to the knockout rounds. Nothing less will suffice. Being eliminated in the group stage would be a major disappointment for the USMNT. As for Iran, it needs only a tie to eliminate the U.S. and move on to the knockout rounds for the first time in its nation's history at a World Cup.
WOMEN'S RIGHTS IN IRAN
On Sunday, U.S. Soccer confirmed that it had posted an Iranian flag without the Islamic Republic symbol on the official USMNT Twitter account as a show of "support for the women in Iran fighting for basic human rights." U.S. Soccer added it was a one-time display and it will restore the Islamic Republic symbol moving forward.
The gesture is connected to nationwide protests in Iran over a woman named Mahsa Amini, who died in custody in September after being detained by Iran's morality police for not wearing a hijab in accordance with regime standards. Protests have been constant inside Iran ever since, along with a crackdown by Iran's hard-line rulers.
Iran's players responded on Matchday 1 by not singing their national anthem, causing the Iranian regime to insist that they sing it for Game 2. Iranian fans in the stadium could be seen crying as the players half-heartedly mouthed the words.
Meanwhile, Qatar World Cup security was trying to prohibit fans from entering the stadium for Iran-Wales on Friday who were wearing Woman-Life-Freedom patches in support of Iranian women. My friend Camellia Senemar, an Iranian American who played soccer at Cal, posted this from the game:
Iranian state-affiliated media reported on Sunday that the Iranian federation would file a complaint with FIFA over the U.S.'s action posting an Iranian flag without the regime symbol in it:
KLINSMANN AND QUEIROZ
On Friday, the ex-U.S. coach Klinsmann repeatedly said on the BBC that "this is their culture" when discussing what he considered gamesmanship by Iran and in Latin American countries. He also took several shots at Queiroz, the Iran coach, in this clip that went viral:
The obvious response is that Klinsmann himself once had such a reputation as a diver that he made fun of himself in England as a Spurs player in a goal celebration. And nobody said "this is their culture" about Germany at the time.
In response, the Iranian soccer federation—which has been really busy issuing press releases!—released a statement calling for FIFA to remove Klinsmann from the FIFA Technical Study Group for this World Cup, and Queiroz wrote an open letter to Klinsmann on his Instagram that's plenty spicy as well.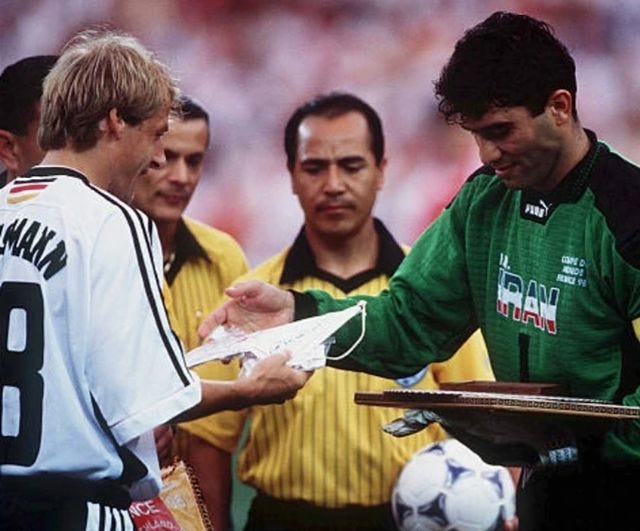 All the back and forth makes you wonder how anyone is watching or preparing to play soccer at this point. But we've got two more days left ahead of USA-Iran to see what else might happen.
What's your sense of all this? Share your thoughts in the comments below.